Waiting On Wednesday is a weekly event hosted by Jill at Breaking the Spine that spotlights upcoming releases that we're eagerly anticipating!
---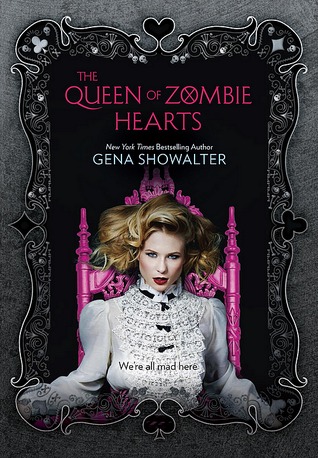 Title: The Queen of Zombie Hearts
Author: Gena Showalter
Release Date: September 30th, 2014
Goodreads | Barnes & Noble | Amazon
Synopsis: Alice 'Ali' Bell thinks the worst is behind her. She's ready to take the next step with boyfriend Cole Holland, the leader of the zombie slayers; until Anima Industries, the agency controlling the zombies, launches a sneak attack, killing four of her friends. It's then she realizes that humans can be more dangerous than monsters; and the worst has only begun.

As the surviving slayers prepare for war, Ali discovers she, too, can control the zombies and she isn't the girl she thought she was. She's connected to the woman responsible for killing and turning Cole's mother. How can their relationship endure? As secrets come to light, and more slayers are taken or killed, Ali will fight harder than ever to bring down Anima even sacrificing her own life for those she loves.
---
I haven't actually read the first two books in the White Rabbit Chronicles series but I stumbled upon this one via Book Rock Betty's YA Prom post (don't get me started on how upset I am that I missed out on that) and now I need it in my life. I am always, always, always down for zombies – World War Z [x], The Walking Dead, you name it I'm there. Gena Showalter's series looks a lot less bleak than my usual zombie reads and I'm actually really excited for that; I've found that the genre has a tendency to be a bit of a downer if you read it a lot (which I do), so I'm always interested in new interpretations of the living dead concept.
I'll definitely be picking up the first two books in the series before September, and it's more than likely that I'll have them read by then too because zombie books have a tendency to creep up to the top of my to-read list (I just can't help it, I love them), so hopefully I'll be all set to read The Queen of Zombie Hearts as soon as it's released!