Waiting On Wednesday is a weekly event hosted by Jill at Breaking the Spine that spotlights upcoming releases that we're eagerly anticipating!
---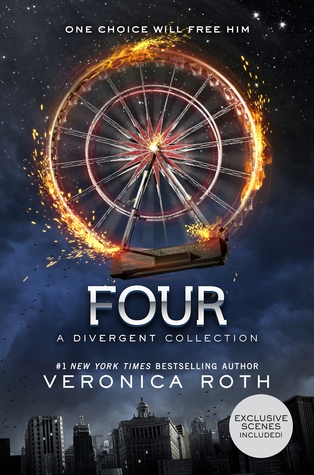 Title: Four: A Divergent Collection
Author: Veronica Roth
Release Date: July 8th, 2014
Goodreads | Barnes & Noble | Amazon
Synopsis: Two years before Beatrice Prior made her choice, the sixteen-year-old son of Abnegation's faction leader did the same. Tobias's transfer to Dauntless is a chance to begin again. Here, he will not be called the name his parents gave him. Here, he will not let fear turn him into a cowering child.

Newly christened "Four," he discovers during initiation that he will succeed in Dauntless. Initiation is only the beginning, though; Four must claim his place in the Dauntless hierarchy. His decisions will affect future initiates as well as uncover secrets that could threaten his own future—and the future of the entire faction system.

Two years later, Four is poised to take action, but the course is still unclear. The first new initiate who jumps into the net might change all that. With her, the way to righting their world might become clear. With her, it might become possible to be Tobias once again.
---
I'm super excited for this one because Four/Tobias is easily my favorite character from the Divergent series and I'm definitely interested in reading from his perspective – I'm also really happy that they decided to bundle all of the short stories together in to a hardcover instead of releasing them separately. Veronica Roth is actually doing a Q&A at a local bookstore in mid-July (along with Phoebe North of
Starglass
[
x
]) and while I don't think I'll be able to attend the event I'm hoping I'll still be able to pre-order a signed copy of the book!
What books are you waiting on this week?